June, 20
Melanie
Music
Television
ACM Entertainer of The Year Luke Bryan, of Leesburg, will premiere the new video for his current single "Crash My Party" this morning during the fourth hour of "The Today Show" with Kathie Lee and Hoda Kotb.
The premiere will give fans a taste of what they can expect from Bryan's Aug. 16 appearance on "Today's" 2013 Summer Concert Series.
Bryan rejoined longtime director Shaun Silva to create the video, which can also be viewed in its entirety exclusively at today.com and KLGandHoda.com all day today and across all platforms beginning Friday.
"Crash My Party," written by Rodney Clawson and Ashley Gorley, is the lead single on Bryan's highly anticipated forthcoming album, which will be in stores on Aug. 13.
June, 20
Melanie
Music
Rumors
I don't know for sure what Luke Bryan's new album is going to be called, but I definitely know what it's not going to be called – Blue Moon Stampede, which is the album title almost every single country music website has been reporting for the album due out in August. When I asked Bryan about it on Saturday (June 15) when he brought his Dirt Road Diaries tour through Chicago, he replied, "Are you serious?" Then he said, "No way. That's ridiculous. I'm not calling it that." But aside from all the misinformation on the title, I can tell you with certainty that the songs themselves are some of Bryan's best yet.
"It's the most well-rounded album I've ever done," Bryan told me. "I think it's twice as good as Tailgates & Tanlines because I was finally singing really, really good on this one. And we figured out a lot about how we want to record my voice, so I'm fired up about that." He added that the new album has some very "Luke Bryan songs" on it, but that it is a good mix of those and newer sounds. "We've got songs that touch on farm life, and then some stuff that's more contemporary sounding," he said. "And then 'Crash My Party.' The second I heard that one, I loved it. And I really feel like that thing could almost be a crossover deal."
June, 12
Melanie
LBTV
Videos
Take a minute while Luke reflects back on how the Dirt Road Diaries tour has been so far.
June, 11
Melanie
Gallery
Other
Videos
Here is an amateur video of Luke singing his latest single, "Crash My Party", at the 2013 CMA Music Festival at LP Field in Nashville, Tennessee.

I also added new photos of Luke from that LP Field performance that took place last week. To view the whole album, click on one of the thumbnails of the images.
June, 11
Melanie
Welcome to the all new LukeBryanFan.com! We got a new design up made by the talented brubsyo.org! We hope you enjoy the new and fresh look of the site, and keep checking back for Luke updates! In the meantime, follow us on Twitter @LukeBryanFans!
June, 7
Melanie
LBTV
Magazine
Videos
Get a sneak peak at Luke's People magazine photo shoot and a quick glance at how well the boys work together on the road.
June, 6
Melanie
Award Shows
Gallery
Other
Television
These new photos are from the past couple days from the 4th Annual Darius and Friends Concert in Nashville, and also his performance at the 2013 CMT Awards. To view all the photos of the album, please click one of the thumbnails.
The 4th Annual Darius and Friends Concert in Nashville (June 3rd)
The 2013 CMT Awards in Nashville (June 5th)
CURRENT SINGLE



Drink A Beer
Purchase - iTunes or Amazon
PROJECTS
Crash My Party Album
Released - August 13, 2013
iTunes or Amazon


Spring Break...Here to Party
Released - March 5, 2013
iTunes or Amazon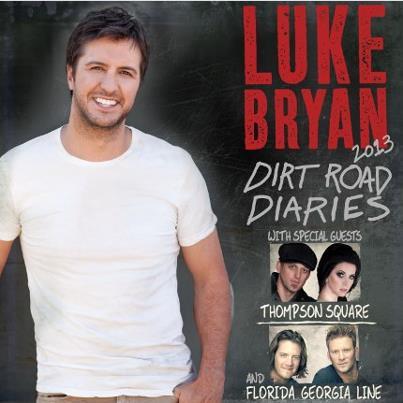 Dirt Road Diaries Tour
When - Jan 2013-Oct 2013
First Leg or Second Leg
RADIO REQUESTS
Request Luke's current single, Drink A Beer, at radio stations across the nation by clicking here!
SITE STATS
Owner Melanie
Opened April 2011
Host Starszz and Hollywood

SPONSOR