March, 13
Melanie
Hey everyone sorry for the lack of updates! I'm really busy right now with my personal life, so I will be going on a small hiatus but will be back soon!
February, 8
Melanie
Other
These days when Luke Bryan plays live, it's likely to be to an arena full of fans, thanks to his blockbuster 2011 album, Tailgates & Tanlines, and such hits as "Country Girl (Shake It for Me)." But earlier last night (Feb. 6) in Boston, the genial Georgia native played to a much smaller crowd of about 400-plus lucky ticketholders at the Cavern Club at the Hard Rock Cafe.
The show was a benefit for the Floating Hospital for Children at Tufts Medical Center and, before he hit the stage, Luke took time out to chat with a young woman who is a patient at the hospital and a big fan. "I never get to do small stages, so it's fun for me to just sit up there with my band. And then when you do it for a great cause and people are getting directly affected by it, it's pretty awesome," Luke said, after posing for pictures and signing autographs for Allie Hawkes, 19, who had a special front-row seat.
The benefit concert was part of Boston country station WKLB's yearlong 20th-anniversary celebration. WKLB recently won a Country Music Association award for Major Market Station of the Year and promises to bring more country acts to Beantown to commemorate its two decades on the air.
Look for more on Luke and his new spring break album in the March 11 issue of Country Weekly, on stands March 4.
Source
February, 7
Melanie
LBTV
Videos
Luke and the guys are up to no good again with LBTV: Outtake's Edition!
January, 31
Melanie
Award Shows
LBTV
Videos
Soon you'll start seeing Luke's face on Dr Pepper cans & cases in stores as part of an ACM Awards promotion. Go behind the scenes for this photo-shoot & see how it all got created. Don't forget Luke is co-hosting the ACM Awards this year in Vegas with Blake Shelton this April!
January, 30
Melanie
Gallery
I added new photos from the 2013 Georgia Music Benefit concert to the photo gallery. Below you can preview some of the album.
January, 30
Melanie
Music
Capitol Records Nashville recording artist and 2013 Academy of Country Music Awards show co-host Luke Bryan will release his next spring break themed album on March 5, 2013, Spring Break…Here To Party. This CD will be available in record stores, and digitally, and will contain many of the songs released on his previous EP's. In addition, Luke has written two original songs for the album.
In promotion for the soon to be released record, Luke will take a short break from his headline tour, "Dirt Road Diaries Tour," to once again play concerts at Spinnaker's Beach Club in Panama City, set for March 12 and 13, where over 40,000 fans flocked to the beach each day last year to see Luke perform. Spring breaking fans can also enjoy a "Dirt Road Diaries Tour" show the following day on March 14 at the Amphitheatre at the Wharf in Orange Beach, Alabama.
Check out the Spring Break…Here To Party track listing below:
1. Suntan City
2. Just A Sip
3. Buzzkill
4. If You Ain't Here To Party
5. Little Bit Later On
6. In Love With The Girl
7. Shore Thing
8. Sorority Girl
9. Shake The Sand
10. Love In A College Town
11. Wild Weekend
12. Cold Beer Drinker
13. Spring Break-Up
14. Take My Drunk Ass Home
Source
January, 24
Melanie
LBTV
Music
Videos
Luke kicks off the year with the Dirt Road Diaries tour and the first LBTV of the year. We've got new songs, new crew & band members, and a whole new show!
CURRENT SINGLE



Drink A Beer
Purchase - iTunes or Amazon
PROJECTS
Crash My Party Album
Released - August 13, 2013
iTunes or Amazon


Spring Break...Here to Party
Released - March 5, 2013
iTunes or Amazon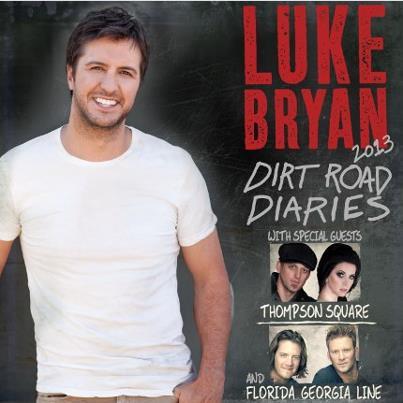 Dirt Road Diaries Tour
When - Jan 2013-Oct 2013
First Leg or Second Leg
RADIO REQUESTS
Request Luke's current single, Drink A Beer, at radio stations across the nation by clicking here!
SITE STATS
Owner Melanie
Opened April 2011
Host Starszz and Hollywood

SPONSOR